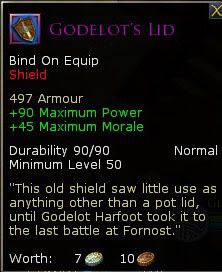 How this shield (or rather lid?) made it's way all overfrom the Shire and through Fornost not only to the Rift, but to the very Balrog's chest?
Concerning the Shire, Gandalf said to the dwarves at the very beginning of
The Hobbit
:
Swords in these parts are mostly blunt, and axes are used for trees, and shields as cradles or dish-covers (...).
J.R.R. Tolkien,
The Hobbit