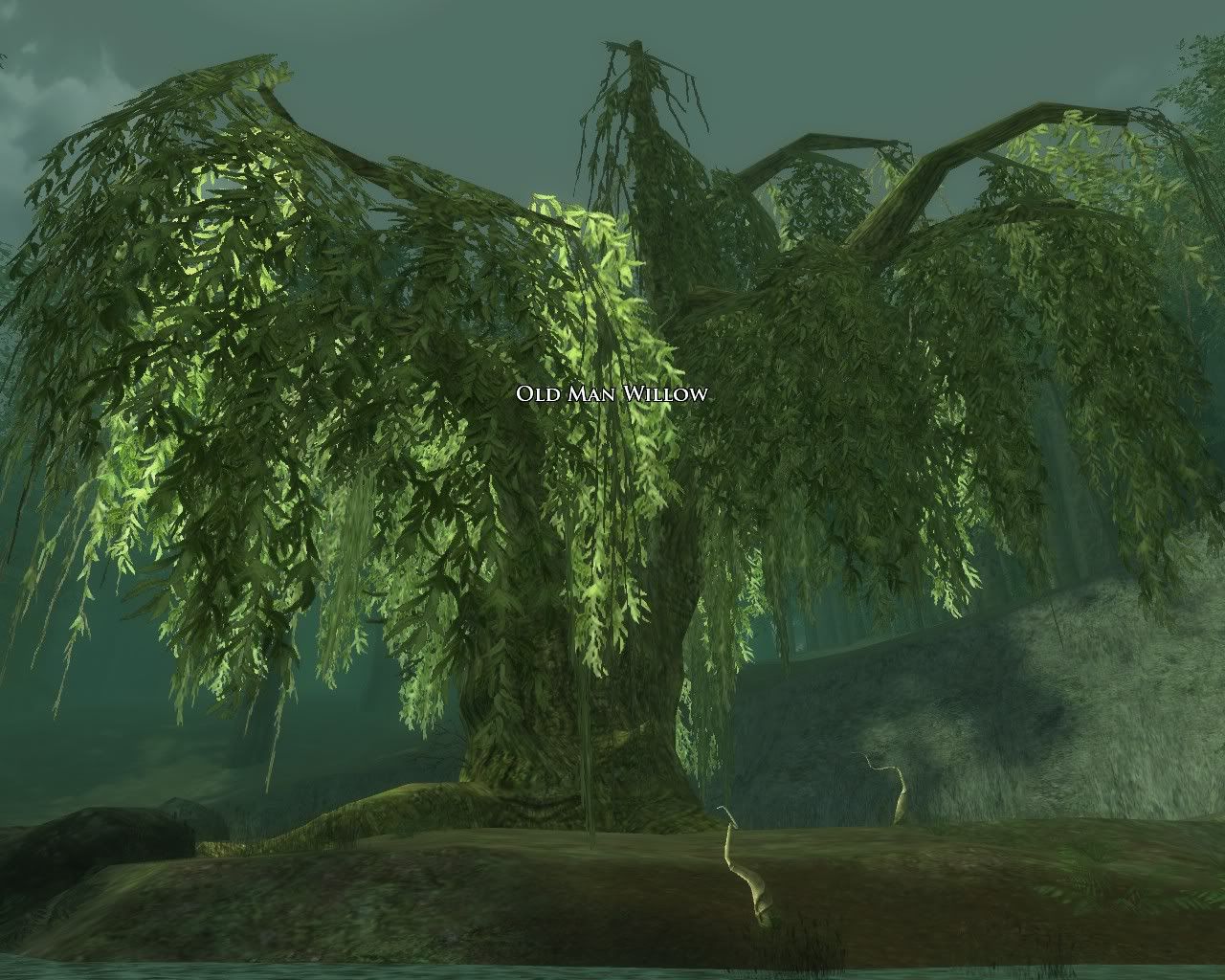 The hobbits began to feel very hot. There were armies of flies of all kinds buzzing round their ears, and the afternoon sun was burning on their backs. At last they came suddenly into a thin shade; great grey branches reached across the path. Each step forward became more reluctant than the last. Sleepiness seemed to be creeping out of the ground and up their legs, and falling softly out of the air upon their heads and eyes.

Frodo felt his chin go down and his head nod. Just in front of him Pippin fell forward on to his knees. Frodo halted. 'It's no good,' he heard Merry saying. 'Can't go another step without rest. Must have nap. It's cool under the willows. Less flies!'

Frodo did not like the sound of this. 'Come on!' he cried. 'We can't have a nap yet. We must get clear of the Forest first.' But the others were too far gone to care. Beside them Sam stood yawning and blinking stupidly.

Suddenly Frodo himself felt sleep overwhelming him. His head swam. There now seemed hardly a sound in the air. The flies had stopped buzzing. Only a gentle noise on the edge of hearing, a soft fluttering as of a song half whispered, seemed to stir in the boughs above. He lifted his heavy eyes and saw leaning over him a huge willow-tree, old and hoary. Enormous it looked, its sprawling branches going up like reaching arms with many long-fingered hands, its knotted and twisted trunk gaping in wide fissures that creaked faintly as the boughs moved. The leaves fluttering against the bright sky dazzled him, and he toppled over, lying where he fell upon the grass.

Merry and Pippin dragged themselves forward and lay down with their backs to the willow-trunk. Behind them the great cracks gaped wide to receive them as the tree swayed and creaked.

They looked up at the grey and yellow leaves, moving softly against the light, and singing. They shut their eyes, and then it seemed that they could almost hear words, cool words, saying something about water and sleep. They gave themselves up to the spell and fell fast asleep at the foot of the great grey willow.

Frodo lay for a while fighting with the sleep that was overpowering him; then with an effort he struggled to his feel again. He felt a compelling desire for cool water. 'Wait for me, Sam,' he stammered. 'Must bathe feet a minute.'

Half in a dream he wandered forward to the riverward side of the tree, where great winding roots grew out into the stream, like gnarled dragonets straining down to drink. He straddled one of these, and paddled his hot feel in the cool brown water; and there he too suddenly fell asleep with his back against the tree.

Sam sat down and scratched his head, and yawned like a cavern. He was worried. The afternoon was getting late, and he thought this sudden sleepiness uncanny. 'There's more behind this than sun and warm air,' he muttered to himself. 'I don't like this great big tree. I don't trust it. Hark at it singing about sleep now! This won't do at all!'

(...)

He rushed back to the bank. Frodo was in the water close to the edge, and a great tree-root seemed to be over him and holding him down, but he was not struggling. Sam gripped him by the jacket, and dragged him from under the root; and then with difficulty hauled him on to the bank. Almost at once he woke, and coughed and spluttered.

'Do you know, Sam,' he said at length, 'the beastly tree _threw_ me in! I felt it. The big root just twisted round and tipped me in!'

(...)

Quickly they gathered dry grass and leaves, and bits of bark; and made a pile of broken twigs and chopped sticks. These they heaped against the trunk on the far side of the tree from the prisoners. As soon as Sam had struck a spark into the tinder, it kindled the dry grass and a flurry of flame and smoke went up. The twigs crackled. Little fingers of fire licked against the dry scored rind of the ancient tree and scorched it. A tremor ran through the whole willow. The leaves seemed to hiss above their heads with a sound of pain and anger. A loud scream came from Merry, and from far inside the tree they heard Pippin give a muffled yell.

'Put it out! Put it out!' cried Merry. 'He'll squeeze me in two, if you don't. He says so!'


J.R.R. Tolkien
Lord of the Rings - The Fellowship of the Ring




Somehow this little episode is one of the most memorable in the book!
It's really amazing to see it recreated in-game. Again, a great pressure was put into the details. Not only the look of the tree itself and it's malicious roots just waiting to threw wanderers into the water, or strangle them, but even enviromental effects corresponding to Old Man Willow's songs' effects!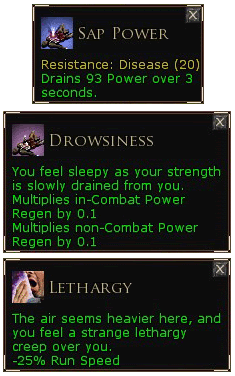 Actually, I must pay the Willow a visit again and try to find the remains of the fire Frodo and Sam lit to scare him. Somehow I am sure I will succeed - cheers Turbine! :D
Edit:
Visit was payed, and i have not succeed, for Turbine has failed me for the first time..!
No remains of fire!!! *cries*