"Dawn take you all, and be stone to you!" said a voice that sounded like William's. But it wasn't. For just at that moment the light came over the hill, and there was a mighty twitter in the branches. William never spoke for he stood turned to stone as he stooped; and Bert and Tom were stuck like rocks as they looked at him. And there they stand to this day, all alone, unless the birds perch on them; for trolls, as you probably know, must be underground before dawn, or they go back to the stuff of the mountains they are made of, and never move again. That is what had happened to Bert and Tom and William.

"Excellent!" said Gandalf, as he stepped from behind a tree, and helped Bilbo to climb down out of a thorn-bush. Then Bilbo understood. It was the wizard's voice that had kept the trolls bickering and quarrelling, until the light came and made an end of them.
J.R.R. Tolkien, The Hobbit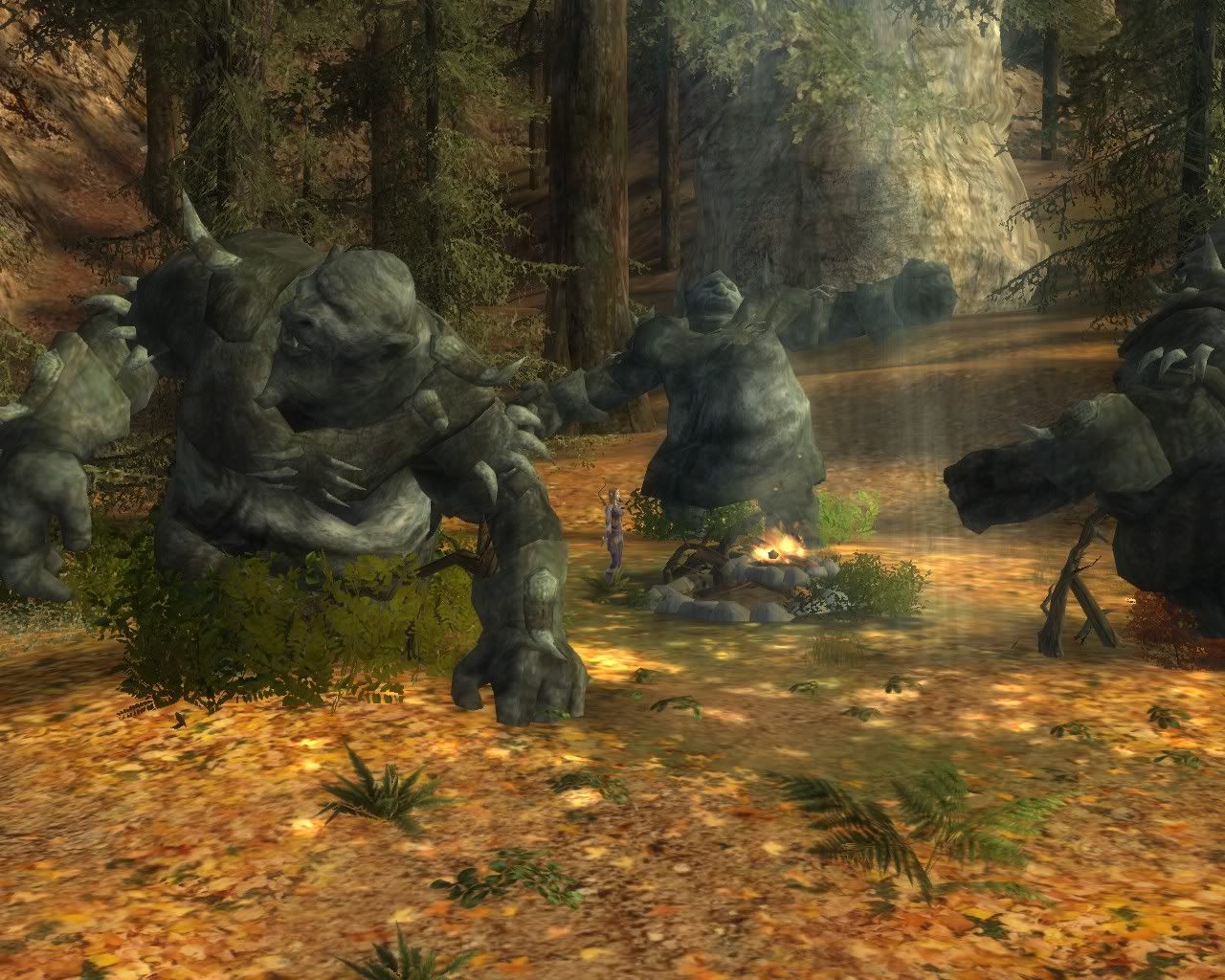 'Surely this is a troll-hole, if ever there was one!' said Pippin. 'Come out, you two, and let us get away. Now we know who made the path -and we had better get off it quick.'

'There is no need, I think,' said Strider, coining out. 'It is certainly a troll-hole, but it seems to have been long forsaken. I don't think we need be afraid. But let us go on down warily, and we shall see.'

The path went on again from the door, and turning to the right again across the level space plunged down a thick wooded slope. Pippin, not liking to show Strider that he was still afraid, went on ahead with Merry. Sam and Strider came behind, one on each side of Frodo's pony, for the path was now broad enough for four or five hobbits to walk abreast. But they had not gone very far before Pippin came running back, followed by Merry. They both looked terrified.

'There _are_ trolls!' Pippin panted. 'Down in a clearing in the woods not far below. We got a sight of them through the tree-trunks. They are very large!'

'We will come and look at them,' said Strider, picking up a stick. Frodo said nothing, but Sam looked scared.

The sun was now high, and it shone down through the half-stripped branches of the trees, and lit the clearing with bright patches of light. They halted suddenly on the edge, and peered through the tree-trunks, holding their breath. There stood the trolls: three large trolls. One was stooping, and the other two stood staring at him.

Strider walked forward unconcernedly. 'Get up, old stone!' he said, and broke his stick upon the stooping troll.

Nothing happened. There was a gasp of astonishment from the hobbits, and then even Frodo laughed. 'Well!' he said. 'We are forgetting our family history! These must be the very three that were caught by Gandalf, quarrelling over the right way to cook thirteen dwarves and one hobbit.'

'I had no idea we were anywhere near the place!' said Pippin. He knew the story well. Bilbo and Frodo had told it often; but as a matter of fact he had never more than half believed it. Even now he looked at the stone trolls with suspicion, wondering if some magic might not suddenly bring them to life again.

'You are forgetting not only your family history, but all you ever knew about trolls,' said Strider. 'It is broad daylight with a bright sun, and yet you come back trying to scare me with a tale of live trolls waiting for us in this glade! In any case you might have noticed that one of them has an old bird's nest behind his ear. That would be a most unusual ornament for a live troll!'


J.R.R. Tolkien
Lord of the Rings - The Fellowship of the Ring




Aw, I forgot to upload a screenie of the nest =.= Yes, it's there. And I have to go back and make one of the long-abandoned troll-hole as well!
Edit: well, here they are :) Closeup on the trendy birdnest...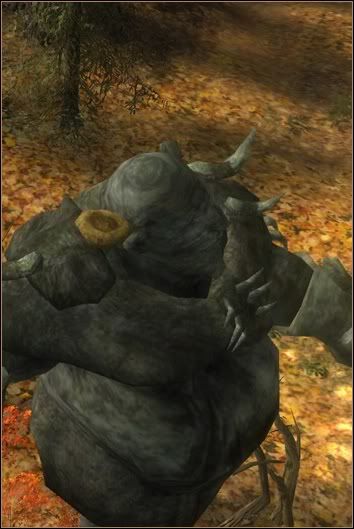 ...and an image of the long-forsaken troll hole the Fellowship has stumbled upon: